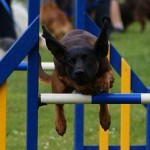 Staffs Agility School is a small friendly school catering for all standards of dog agility and obedience training, from beginners through to competition work or just people who want a bit of fun with their dog.
Private sessions can also be booked. Contact us to check availability.
SAS trains in the equestrian centre, a large indoor venue just off Eaves Lane in Cheadle, Staffordshire.
For all enquiries please use the contact form below or contact Lorraine Tel : 01782 334211